Hang on a tick, right? The Maxoak Bluetti EB240 won that job, didn't it? What happened to all that gushing about the 2400 watt-hours and chugging solar rays and all that?
Well, it is all still valid. I love my Bluetti. It has run my DC fridge, my DC fan and DC lights, my USB charging ports, and my laptop without a hiccup for six months. All of that stuff is well within the range of its 1000W inverter.
And I fully expected that a nice 900W microwave oven (MWO) would be within that range. I mean, wouldn't you think so? 900 < 1000, yes?
Nope. I know cuz I tried. I bought a 900W MWO at Wal-Mart for, like, $45. Crazy good bargain. I brought it to van, plugged it in, put in a Hot Pocket (Ham & Cheese Croissant, yum), set it on high for 2:00 and sat down salivating.
But it soon stopped and sat there, dark and cold. The Bluetti's screen was showing "E600" – or something like that – it began with "E" and that's what you always dread seeing.
I shut it off and then turned it back on to reset it, and realized that the DC outlet was still using power for the fridge. Maybe that was the problem.
So, I cued up the Hot Pocket again, hit go on the MWO and watched the Bluetti screen. It jumped immediately to 1020 …1050 … 1100 … E600. Ugh. Whattup with that?
I pulled out the phone and asked Google, "whattup with that?" but with different words, something like, "How much power does a 900W MWO use?"
Well, turns out that the "heating power is 900W", but the operational power is a lot more -- like 50% more!. Well, shit, that sucks. No wonder it was tripping the switch. Bluetti has a surge function, like all solar generators do, but it will handle "up to 1200W" for 120 seconds, and once it gets over 1200W, it shuts off.
Google eventually informed me that the 900W output requires a 1350W input!! No wonder Bluetti was flipping out. Poor Bluetti. ☹ And, even worse, if I scaled down to a 700W oven, it would still take 1050W to run it.
Soooo, I'd just have to make do with a tiny MWO, like the 600W, 0.6 cu.ft. model that I got from Amazon, right?
Welllll, maybe not, Scott. One absolute priority of the Blue Maxx Project is to Have Enough Power. I'm not big on cooking, so I had no plans to actually have a propane stove – I have a 4-burner gas stove in my cottage and I think I've used it 6 times in 2 years – hence, having a MWO that is merely "capable" was just not gonna cut it.
One of my adventurous moods struck, and before I knew it, I was searching EcoFlow Delta on eBay. As luck would have it, a brand new one was on the auction block.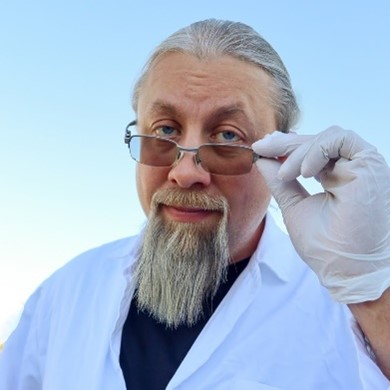 This was the solar generator that I almost bought when I heard about Bluetti at the last minute. In fact – full disclosure – I actually had pulled the trigger and bought the Delta on Amazon, but it was going to take a week-plus to ship it. In that span, though, Professor Hobo of Hobotech.com posted a review video on the Bluetti, and it looked tremendous enough for me to cancel my Delta order.
Now I had a chance to add the Delta to my mobile domicile (mobicile??) after all, and at a significant savings.
The current bid was about $500. They typically retail for about $1400. I got in the mix and periodically checked in over the next 36 hours. In the waning moments, I thought I had it for under $1000, but some snake jumped in with $1050 with 1:00 to go. I cued up my winning bid and counted down in my head. With what I figured was about 10 seconds left, I submitted the bid and laid claim to my prize.
Yeah, it was $1100 over budget, but this thing is a Beast. I said that about the Bluetti too, but they are both Beasts. Check out Will Prowse's YouTube review. [Those two guys were HUGE helps to me in sorting out what was what and what I needed in my van: Will, especially, when it came to solar panels. The man is a wizard.]
Bluetti kicks ass on Delta in storage, 2400Wh to 1260Wh, almost double. But Delta has 6 AC outlets (vs. 2), charges from 0% to 100% in less than 90 minutes (which is insanely fast) and, most importantly, it has an 1800W inverter! Delta is also compact enough at 8x15x10 to fit under the desk without interfering with anything.
So, here is The New Blue Maxx Power Grid:
The Bluetti will handle everything mentioned above: business as usual for the Maxoak.

The Delta will have its own dedicated AC outlet (I get to use the hole saw again!) on the back corner of the dresser, and it will handle the MWO and whatever TV/Monitor that I end up getting. That cord from that outlet will connect to a power strip that plugs into the back of the Delta.
The 5 other AC outlets on the unit will be available for any other 110V devices that I might need at any given time. It's portable enough (only 30 pounds) to grab-n-go if I need AC power somewhere outside the van.
I've already used it to run my corded handheld circular saw and it handled the power tool with ease. I'm told that I cannot jump-start my van with the Delta, but I can use it to charge the battery.
The 600W MWO is still on the job, for now. I might upgrade to 900W or more, but then space becomes an issue. The 900-watter that I had originally was too big to fit in the upper cabinets, so I stored it on the floor in the front compartment under the bed. I had to pull it out and heft it up onto the counter in order to use it, and then put it back before driving anywhere.
Was that a big deal? No, not compared to having no MWO at all, but it was kind of a medium deal. The 600W box is barely small enough to fit up top. I just slide the cabinet door open and it's right there awaiting my whims. Pretty sweet.
So, I'll need to decide – at some point – if I want the convenience is worth the lower power. (Funny that "lower" an "power" don't rhyme, hm?)
It's been suggested that I make the MWO permanent on the counter, and I could do that. Trouble is, that spot is reserved for the TV (or monitor), which will be on a swivel stand so I can view it from the desk while a work, and from the bed while I lounge. There is not enough room for both.
Anyway, I have an additional 1260Wh of power now. Google tells me that a 24" TV uses 40W. If I use Delta for TV alone, I can watch 31.5 hours of non-stop telly.