DC Refrigerator
Alpicool CF45 Portable AC/DC 48-Quart Refrigerator/Freezer - $319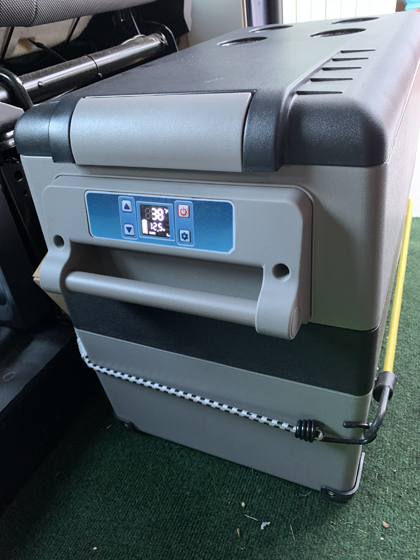 Keeping food and beverages cold when traveling has always required ice. And ice melts, so ya gotta buy more ice. And more ice. Et freaking cetera. At two bucks a bag, you could spend $40 or so just on ice in three-week trip. And if you start robbing the cooler to fill your 30-ounce tumbler with cubes, then you might even find yourself going through two bags a day.
That is unacceptable. Using that same space for a refrigerated cabinet makes a whole lot more sense. The trouble has always been, how do you keep the box chillin'? It could be powered by the cigarette lighter as you drive, but what happens when you shut the car off?
That's where solar power comes in, Lynn. As long as the sun doesn't burn out, my stuff will be chilled. And if the sun does burn out, well, we will all have much bigger problems than tepid beer.
There are several brands of portable fridges out there. Dometic is the top o' th' line, but it carries the top o' th' line prices too. The size I was looking for ran in the $900 range. That's a whole lot of bags of ice.
But there were several other brands that all hovered around the same modest amount. Many of them also looked alike, as if the same Chinese manufacturer was making them for several distributors (which, I'm sure, is exactly the case).
Alpicool – whose motto is "We make you feel cool" (which would be fine if I was going to be in the frig) – made a unit that had separate freezer and refrigerator compartments, but it went out of stock with no promise of returning. I had to suspect there were too many problems with it. I ordered the next best one available, which can be both, just not at the same time.
It arrived in working order – hooray! – and I plugged it in to the AC power and got it cooling. After a little while, it dropped from room temp to 35F and stayed there. Nice.
I took it out to the van and plugged it into the DC socket of the Maxoak. It hummed contentedly. So did I.
Solar had not yet been connected. The wires from the panel and the ones from the power pack (Maxoak) were not long enough to reach. This allowed for a great test, as it turns out. The Maxoak had just been charged up to 100% from AC power, so I plugged the fridge into it and waited to see how long it would be before the battery power ran out.
The Alpicool pulls 5 amps, and the regulated DC outlet on the EB240 feeds it 13V, meaning it draws 65 watts of power. That, by itself, would mean close to 40 hours of electricity, which would not suck at all.
But, that 65 watts only happens while the fridge's compressor is on. The compressor shuts off when the desired temp is reached, so much of the time it draws no power at all. Of course, sitting in a closed and super-heated van all day makes that little motor come on more often, but, even so, the Alpicool ran at a steady 35 degrees for more than 72 hours before the Maxoak ran out of juice. That was damn good! Whaddythink, Will?? Ha.
Now that solar is in the loop, thanks to an extension cord, the sun easily tops off what little power the fridge draws during the day or the previous night.
The Alpicool CF45 does also function as a freezer, but it will be the whole unit, not just one of the two compartments. It allegedly will chill down to -4F. So, if I ever do decide that I want ice, I can make my own. =)
I have Alpy bungeed to the back of the passenger seat. That was done as temporary set-up, but I'm liking it more and more. I mean, there is nothing else planned for that spot, it creates more space for something else along the driver side wall, and, perhaps of primary importance, it is within arm's reach of the driver (i.e., me).
Maxoak is behind the driver's seat, under the table, and I think he'll stay there too. Long way to go yet, so we'll see…