THE TILE FLOOR
Tempered Hardboard Panel 24" x 48" – 5 @ $5.01 each
TrafficMASTER Red Oak Parquet 12" x 12" Peel-and-Stick Vinyl Tile – 60 for $52.20
Varathane Polyurethane – Glossy Finish -- $0 (already had a quart)
The ceiling was next on the to-do list, but it was proving to be much more complicated than expected, so I needed some more time to concoct a plan.
Blinds for the driver side window and the back windows looked like they'd be up next, but they are made-to-order, so they take a few weeks to arrive.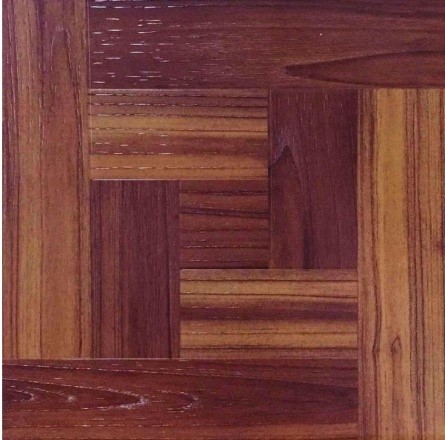 Soooo, the floor it shall be! I had this planned out long ago. Vinyl peel-n-sticks, one square foot each. Right away, I had it narrowed down to African Wood and Red Oak Parquet. I really liked the dark African Wood, but the dark-and-light streaky pattern was going to be impossible to match up and would just end up looking disjointed.
I wanted it to look jointed, I guess, and the regular pattern of the parquet, in a hue that would complement the existing stained cedar and cognac trim, seemed really appealing. (I have to admit there is also a bit of a tip of the hat to the Boston Garden basketball court as well.)
First step was to double check all my measurements. The chart that I used to make such a perfect fit with the rug should match up just right, but I wanted to be sure. You can trim a carpet with a boxcutter if you need to make it fit. Not so with tempered hardboard; I was gonna have to take the power saw to those. Plus, they are too big to fit on the 32" x 18" workspace of the laser, so there would be no easy way out.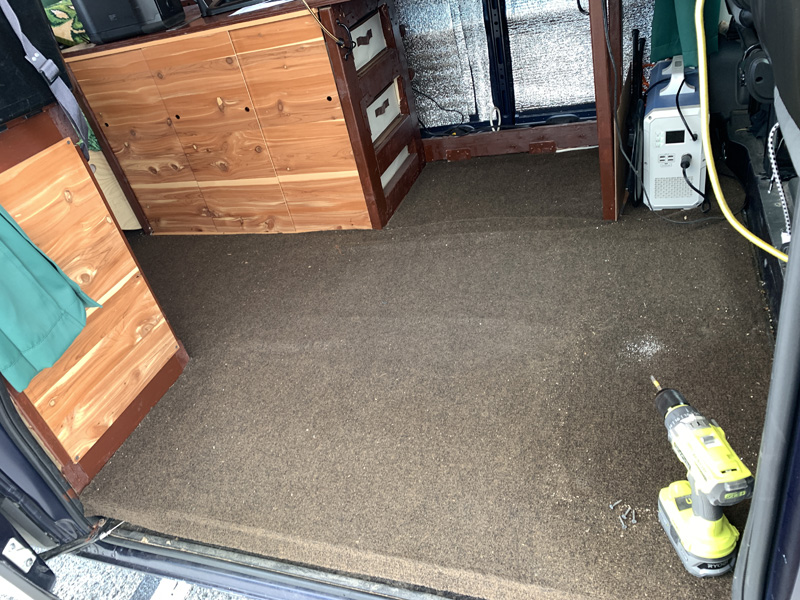 Step two was to do the actual cutting and test fit them. A little extra trimming was necessary (of course). I used the big workshop table at work, but, in retrospect, I should have just used the flat floor and open side door of the van. That's what I did for the tweak cuts and I couldn't believe how much easier it was. (Plus, I'd skip that extensive clean-up of that table area; I could just sweep up with a big broom if I used the van door method.
The tempered hardboard (TH) is an "extra" step in itself, probably. There is already a ¾" plywood subfloor, as you undoubtedly remember from Chapter 8 or so. It's sufficiently flat, even at the tongue-in-groove seams, but it's not especially smooth and TrafficMASTER specifies a smooth surface for best application of their tiles.
Well, TH is smooth as you please on one side and will screw securely onto the plywood. I deemed it a top-notch idea and well worth the effort it would require.
Anyway, before anything could go in, the rug had to come out. And before that could happen, everything on the floor had to move off, up, or out: desk chair, Eco Flow Delta solar generator, Alpicool fridge, spare cooler, and the drawers on the front side of the bed. I left the Maxoak Bluetti solar generator on its floor spot behind the driver seat, resolving to do that little space another time. This was a hot Saturday afternoon on Memorial Day weekend, and I definitely needed those DC-powered fans blowin' to get me through the task.
Next, remove the cheap brown rug. It was never intended as The Answer, but it had done an excellent job of filling the gap. As I removed screw after screw – about 30 in all – I found myself being impressed by the quality installation I had done. I was going to have to do a pretty nice job with this tile to justify 86-ing the rug.
The floor HAS to be tile, though. Like I've said before, water is Vanlife Enemy #1, and carpets are especially vulnerable. Yeah, they stain and get soggy underfoot, but the real problem is when the water gets under the rug and seeps into the plywood sub-floor.
This brown rug never got wet, but, man, you should have seen how much dirt was under it! Took a right good sweeping to clean it all out.
So, yeah. I ran into a little stumbling block when I started to install the TH. The ¾" drywall screws I was re-using (the same ones that had been holding the rug in place) were bugle-head screws. These are flat on the top and fluted from the shaft to the underside of the head. Because of the flute, the screws were not sinking in flush with the firm surface of the hardboard. That looked like it would be a problem under the vinyl tile.
But my second favorite never-knew-it-existed tool – the little countersink attachment for my drill – saved the day. It created tidy sloped circular holes that the bugle-head fit into perfectly.

I used about half of the screws, mainly concerning myself with where the panels would meet, and the corners. All 5 of the panels needed to be trimmed to some degree: the back one nearly in twain, the front along the full length, the two middle ones barely at all, and the one under the desk cut to pieces.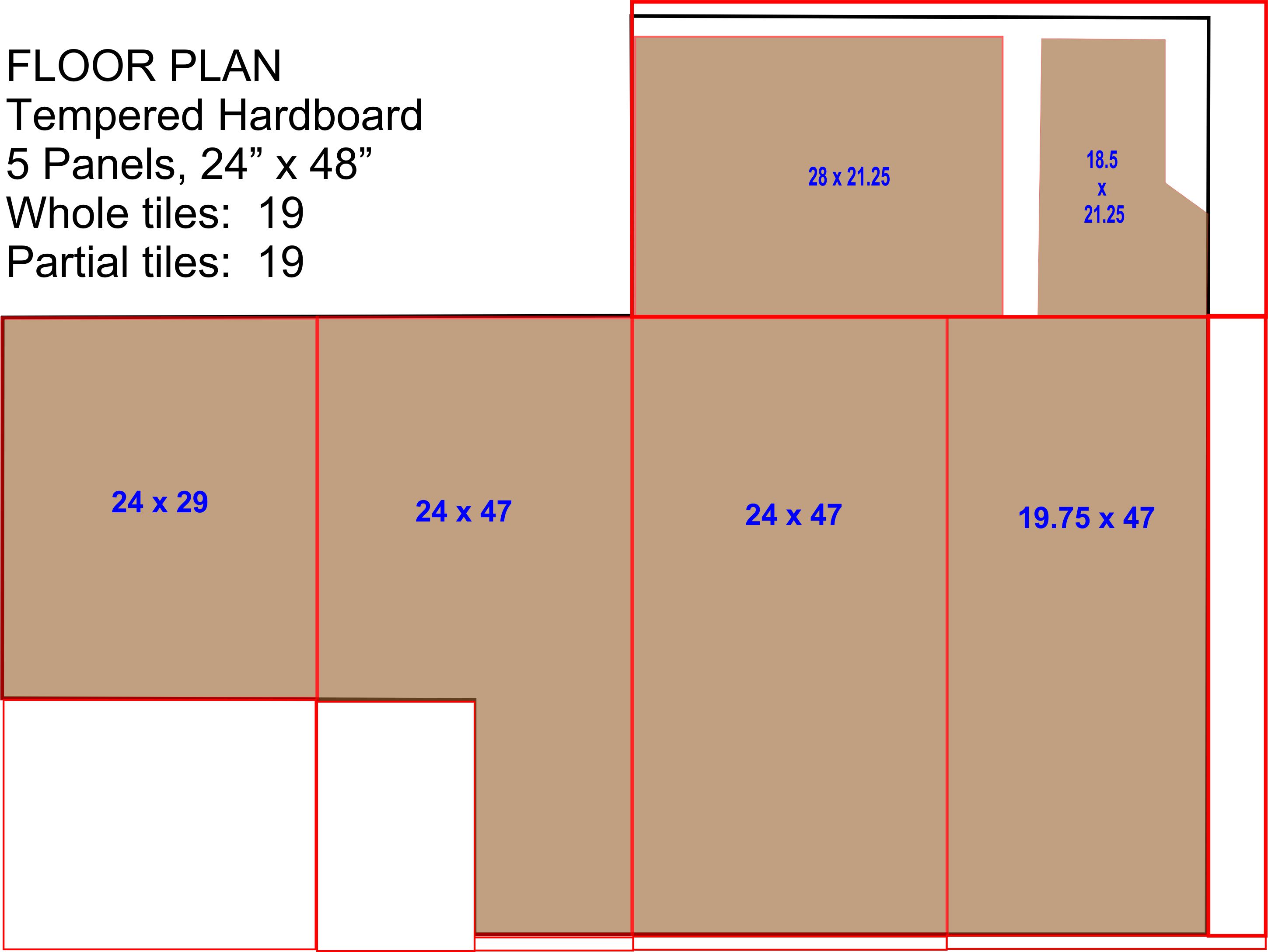 Once that was all in place, I paused to figure out where to start tiling: front, back, side, middle? Some videos about this type of tile insist that you must start in the middle of the room. This is a very small room, but I wondered if that would still apply and why?
Why wouldn't you start along a wall? It would eliminate at least one place where you'd have to trim the tiles to fit. Maybe a non-straight wall would mess up your whole floor?
One key consideration here, though, was the location of the seams between the panels. I wanted to be sure that the seams between the tiles would not line up with them. That just seemed (haha, seemed, get it?) to be inviting a separation problem. The tiles needed to bridge those underlying seams.
The 24" panel at the back would match two 12" tiles way too closely. The front panel, being 19.75" wide would work much better.
Hence, I chose the front near the driver seat as my starting point, giving myself a straight line back to the bed, and another towards the sliding door. From those row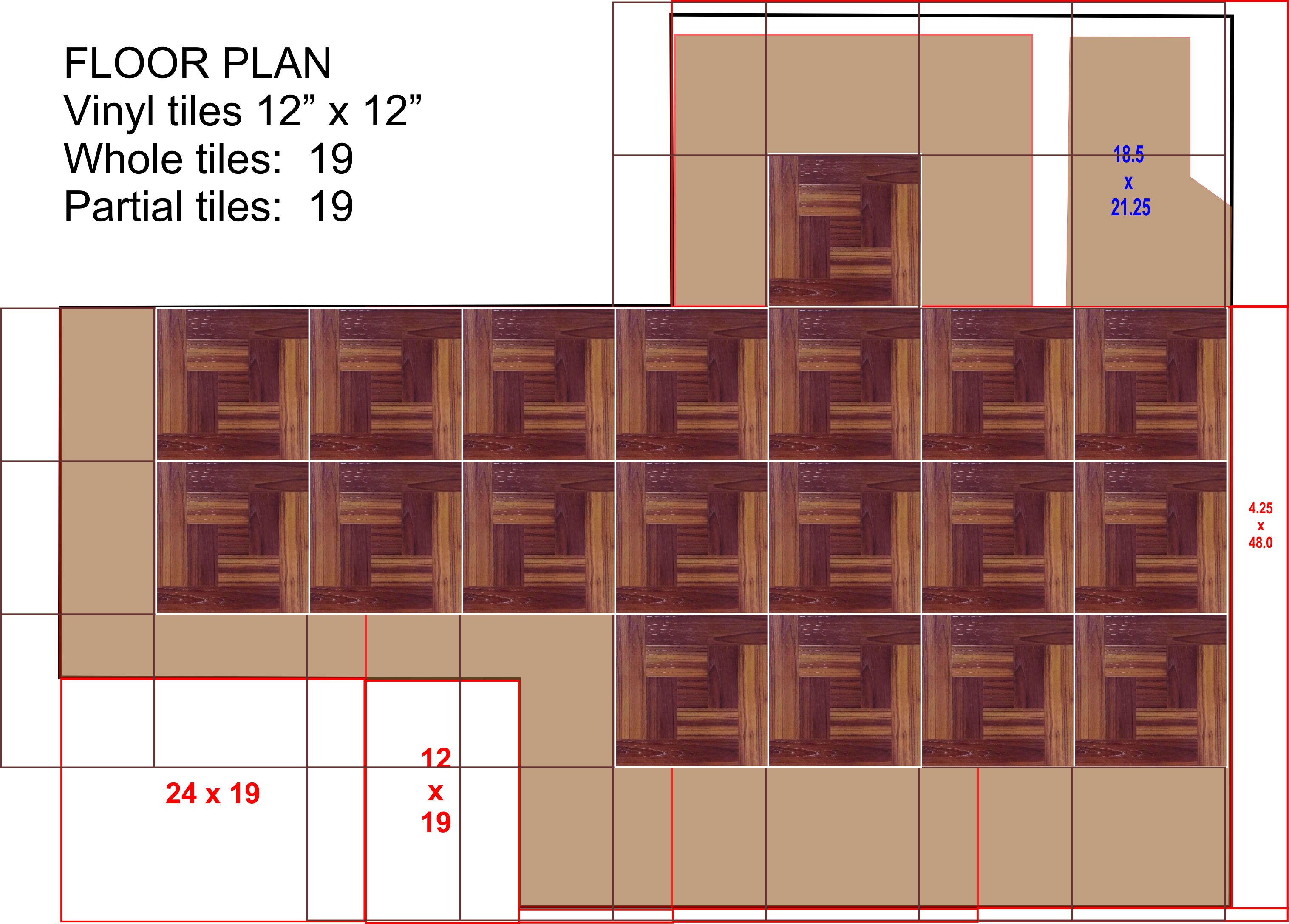 s, I filled in as many whole tiles as I could: 19 in all. My floor space calculated out to 32.5 square feet, so the remaining 41% was going to have be trimmed to fit.
I didn't dread this part. It seemed simple enough: measure the space, mark the tile, cut it with a boxcutter and a straight edge, and stick the bastid in place. But my pace was going to slow waaaaaay dowwwwn. Oh well, 'twas what 'twas, Buzz.
There were a few spots where my furniture construction was not as spot-on-accurate as I would have liked, so some slivers also had to be cut to cover narrow gaps along the front of the dresser. Other than that, it went down without a fight. I even got ambitious and tiled the space under the bed where the shelves are (not shown on chart).
I gotta say that the TrafficMASTER tiles themselves were a breeze to work with. The backing peeled off easily, and the adhesive stuck fast right away. I had one mess-up where I had to pull the tile back up; it came grudgingly, bending but not breaking.
I am a little worried that they will dent easily, though. I saw a couple of tiny spots where I had been sitting on my metal stool, so I'll need to be careful.
I like this stuff. I doubt I'll ever do another floor, but if I do …
So, almost done. Not quite. A little more defense against demon water was in order. I had almost a full can of glossy finish polyurethane left over from the countertops and walls and cabinets. Just a little bit o' that stuff goes a long fricking way.
Using a 4" sponge brush, it only took about 15 minutes to do the first coat. Only 32 square feet of smooth floor, y'know? I checked it about two hours later and it was dry, so I put down a second coat. That took about 10 minutes. The first coat was brushed back-to-front, so I did the second one side-to side. That's how it works when laminating canvas prints, so it seemed logical here.
Man, that floor freakin' shines now. I might do a couple more coats! =)
The final step was to protect the edges. I had bought some black plastic moulding – several 72" sections of 0.5" x 0.5" – to use along all the edges, along the baseboards to help prevent (or hide) any loosening edges. Everything fits so tightly, though, and the TM tiles stick so well, I decided to forego it. I can add it later if things change.
The only place I did use some was on the 52" long lip at the side door. Before I had even finished half the floor, I had gashed my shin in that exposed edge. Actually, I bought a stick of pine moulding for that area. The wood has a slightly rounder corner than the plastic ones do. I'm sure that will help; I just know I'll be banging my shin on that a lot.
That lip is the one place that I regret having to pull up the carpet. I had that rug wrapped around tight and snug under the plywood sub-floor: totally professional install.
So, hmmm. What's the problem?
I love the cedar cabinet doors, and I love the Red Oak Parquet tiles. Juxtaposed, though, ehhhhh, yeah, I still like 'em, but…
Well, I kinda get the plaid-pants-with-striped-shirt vibe. Never once crossed my mind until I stood back and looked at the finished floor. I'll just have to get used to it. Certainly not changing either at this point. =)